Word Template Design & Create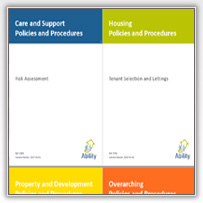 Fresh Interactive top three tips for your Word Template
Clarity is everything, use plenty of white space.
Avoid long winded titles and repetition. Keep title areas small to encourage concise thinking.
Always use a table of contents when there are likely to be more than 3 content pages.
We started being asked by branding and design companies to create Word templates about 10 years ago, and it has been popular ever since.
For example we create Policy and Procedure document templates for clients and in 50 % of the cases populate them as well. Recently we have done this for people as diverse as Tesco, several housing associations a local authority and a very large financial institution.
Either we will design a word template, or a design agency will send us a design as a Pdf or InDesign package.
We will appraise the design to see if it will work as a Word template, come up with ideas if they are needed, and then the design is passed to the client for approval. On approved we go ahead and create the editable word template document with all the required styles etc.
Sometimes the client company has 100's of documents that need to be put onto the new template design, and we can make that happen too.
Smart Word editable features we can deploy for you:
| | |
| --- | --- |
| | Password locked areas that the staff can't change by accident. |
| | Text that repeats throughout, not just in headers and footers. |
| | Charts that follow a nice graphic design, up-datable by the client. |
| | Tables to your own style |
Repeating text example: Type the document title once and it will appear on each page or anywhere that the clients wants. The same goes for Document Version, Author, Subject, Number of pages and a whole plethora of other items. Just ask us.
Documents like: Newsletters, Financial Fact Sheets with editable charts, Proposals, Invoice Templates, Statements, Letterhead, Charts, Funding Applications etc.

Acrobat PDF
It is common practice to turn paper documents into electronic copies in Acrobat PDF format. Ask us about our scanning and OCR service.
We can design and build menus and create attractive interactive PDF's for replication on self running CD-ROM and DVD.

We can also programme Adobe Acrobat pdf's including forms and calculations.