Case Study - Varndean 6th Form College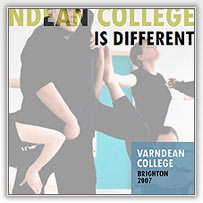 Varndean 6th Form College PowerPoint Presentation
Attracting students is the name of the game in education these days. A powerful presentation package can make all the difference
Outline: Varndean 6th Form College is an important further education college based in Brighton and has an exceptional reputation.
Brief: Fresh were asked to design two PowerPoint presentations, one for the parents and one for potential students.
Approach: A thorough study was made of the audience, the local environment and the college to ascertain the ideas, message and content that would be used. This was reinforced by many techniques including animation, video, music and speech.
A presentation was prepared specifically to meet the emotional needs of the parents while prospective students were engaged by a presentation designed soley for them.
Result: a 25% increase in applications to the college in the first year. The college is positioned as a user of modern effective well designed media and demand continues to rise.


Fresh bring great design, structure, movement and experience to your important PowerPoint presentation.
websites should achieve results, be well designed, usable, accessible and have content controlled by you.

The whole process, from original concept, creation of content, packaging design and pressing.

Sussex University CD Rom
Fresh created an Interactive CD ROM to cost effectively boost the university's marketing overseas.

Haywards Heath Presentation
An important college in the heart of Sussex needs to get its message across with a well designed PowerPoint presentation.