Case Study - British Masonry Society website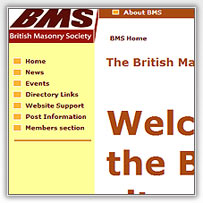 The Web is the perfect place for association members to keep in touch and share information and experience.
Outline: Having commissioned a major university to assess and propose ways to encourage increased membership through improved availability of valuable resources. British Masonry Society (a professional association with members across the globe) selected Fresh Interactive to provide the required on-line solution, following a comprehensive tender process based on the reports recommendations.
Brief: To provide a website with easy-to-use content-management to encourage regular updates with new material. Information to be fully accessed by BMS members with restricted access for non-members.
Approach: The website was based on a new branding project that BMS developed with their consultant who supplied the graphic look & feel items and a style-guide which we followed for the project design. EZ Publish was selected to provide the basis for a comprehensive but cost-effective proprietary content management system. The website design included a editor function to enable management of membership records, creation of products and management of a publication section to enable members to download academic papers and purchase journals.The BMS edit and publish all content.
The site construction has a number of logical sections (members forum, directory links, events, etc) for intuitive navigation plus a site-wide search facility.
The inclusion of on-line payments has been a real benefit and because the membership records can be linked to the payment routine members are able to renew their membership on-line. Similarly events (conferences, courses, etc) benefit from the convenience of allowing users to pay on-line.
Result: The success of the site has exceeded expectations. Availability and access to key resources (notably publications & academic papers) is immeasurably improved. Administration staff now have a much improved quality of life with membership and subscriptions far easier to administrate. Sales of all products have increased and the feedback about the site is positive and constructive.
Fresh bring great design, structure, movement and experience to your important PowerPoint presentation.
websites should achieve results, be well designed, usable, accessible and have content controlled by you.

The whole process, from original concept, creation of content, packaging design and pressing.

Criminal Law Solicitors Association
The updatable CD-ROM members handbook saved thousands & launched CLSA into 21st Century