PowerPoint Presentation - Sun Life PowerPoint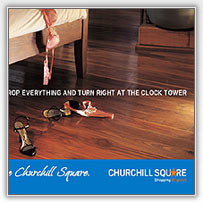 Sun Life PowerPoint Presentation of Vision
PowerPoint presentations can impact throughout the organisation and beyond into the wider community of business, local government and the media.
Outline: Global investment corporation Standard Life Investments have been in operation for over 180 years. Their extensive portfolio includes Churchill Square Shopping Centre in Brighton which is operated & managed by CVA Grimley.
Brief: The senior management team at Churchill Square were preparing a PowerPoint presentation for Group management. They required a presentation of a very high design standard to communicate their findings and vision. They were concerned that tight time scales might compromise quality. We assured them that our flexible and pragmatic approach would overcome any issues that arose.
Approach: We agreed the right look & feel, ensuring consistency through the use of templates and style guides. We ensured that each slide conveyed a clear message presented in an optimum way. Original imagery and animated effects were deployed, this included "before & after" variants used to aid visualisation of proposed developments.
As the teams already had a huge volume of analysis data, we needed to present their findings in a concise, appealing and interesting way. A structure for the presentation was devised enabling the target audience to easily assimilate the results of the background information to help them to appreciate the need for the proposed strategic actions.
Result: The group agreed and instigated an action plan based on recommendations embodied in the presentation. The presentation itself was so well received it will now be used as a flagship example for future group presentations throughout the organisation.



NSC Global - Sales Presentation
When this up and coming outsourcing specialist wanted to impress at a major sales presentation they came to Fresh

Varndean College Presentation
Consistently excelling 6th Form College maintains a market lead through the use of sophisticated presentation techniques.

Haywards Heath Presentation
An important college in the heart of Sussex needs to get its message across with a well designed PowerPoint presentation.